Wisconsin's Premier Hydraulic Design Engineering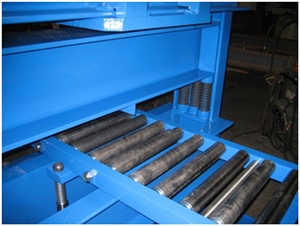 When a specific design is needed for a specific application in Wisconsin or elsewhere, the hydraulic design engineering at Hydraulic Solutions is your best option. The customer provided the needed specifications for this shear. Hydraulic design and manufacturing had to be precise.
After close consultation with the customer, our New Berlin hydraulic experts tackled all design issues, including the entire hydraulic system, hydraulic valves, hydraulic pumps, hydraulic power unit and hydraulic cylinders.
Hydraulic Equipment Manufacturing in New Berlin
Extremely pleased with the design, actual manufacturing of the hydraulic equipment began. At Hydraulic Solutions in New Berlin, manufacturing is always accurate, precise and top-quality. This hydraulic shear was no exception.
The entire design and manufacturing project was completed on time and on budget. We handle everything from your initial phone call all the way through to delivery and installation.
For a top-quality solution, contact the hydraulic design engineering experts at Hydraulic Solutions of Wisconsin, Inc.
Back to Case Studies