Hydraulic Manufacturing of New Berlin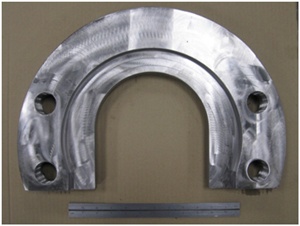 Special machining is an art as well as a science. Hydraulic Solutions delivers the highest levels of precise machining for every job, including hydraulic manufacturing for cylinders, valves, and pumps. This customer needed a top degree of accuracy for this damaged part. Our skilled hydraulic machinists manufactured exactly what the customer needed. Covering virtually all aspects of hydraulic equipment service and repair, our hydraulic manufacturing company offers a full range of special machining services.
Hydraulic Cylinders, Valves and Pumps
Our services include hydraulic fittings, hydraulic brakes, hydraulic pumps, hydraulic cylinders and hydraulic directional valves, exclusively using the finest materials. Hydraulics experts at Hydraulic Solutions have a well-earned and wide reputation for top-quality machining precision. We offer complete hydraulic service, which often starts right at the point of installation. Our experts have handled projects as small as this metal piece – all the way up to installation of some of the largest hydraulic presses in Wisconsin.
Back to Case Studies