Hydraulic Cylinder Repair in New Berlin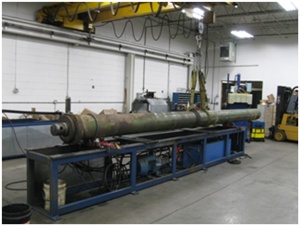 Big jobs aren't a big problem at Hydraulic Solutions. This large cylinder was expertly repaired by our New Berlin hydraulic cylinder repair specialists. Precision is always a requirement for hydraulic repairs, no matter how large or small the equipment, whether in Wisconsin, Illinois or anywhere else in the Midwestern United States.
Our hydraulic engineers of Wisconsin have a broad range of experience across multiple hydraulic applications – presses, cylinders, valves, power units, pumps, motors and so much more. Essentially, any hydraulic part you need, we can get it for you.
Our Experts Guarantee Answers
This large cylinder was repaired and fully-restored on schedule and within budget. The customer was extremely pleased with the project and full manufacturing productivity was quickly restored at his company. We work faster because we have the experience and know-how necessary to get jobs like this done in a timely fashion. Hydraulic Solutions completely guarantees all of our work.
Our customers know the job will be done right and as soon as possible. For the perfect solution to your hydraulic problem – whether large or small – Hydraulic Solutions of Wisconsin, Inc. has your situation covered.
Back to Case Studies