Hydraulic Design Engineers Create Lifting Solutions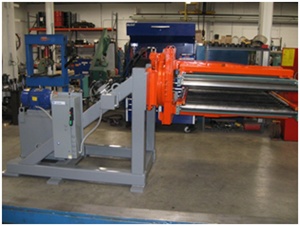 When a local foundry needed a specialized roll-over, they contacted the experts at Hydraulic Solutions. After close consultation with the foundry, our hydraulic design engineer carefully constructed the equipment to create their material-handling solutions.
The roll-over needed to be completed in 3 to 4 weeks. It was needed for a short-order run that the customer had received, which is why they needed it so quickly. As always, Hydraulic Solutions was up to the task. The result was a piece of hydraulic equipment that met all specifications and delivered maximum productivity. The customer was truly impressed with the design and Hydraulic Solutions' ability to meet the deadline.
Equipment Designs Transforming the Hydraulics Industry
The equipment complimented all of the existing requirements at the foundry, restoring full productivity. In fact, it fit in so well with the rest of their machinery that they installed it on a long-term basis after the order was completed, and it is still in use today. The design philosophy at Hydraulic Solutions is to provide the best possible design NOW – so less service work is required later.
There is never any doubt whether we can do it. This approach has earned Hydraulic Solutions a wonderful reputation for thorough, precise and expert hydraulic manufacturing and design in Wisconsin and beyond. For the exact solution you need for every hydraulic problem, we're here.
Contact the hydraulic design engineers at Hydraulic Solutions of Wisconsin, Inc.
Back to Case Studies