Hydraulic Power Units for Beyond the Milwaukee Area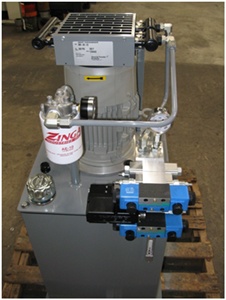 The key to every hydraulic system is a top-quality, dependable and adequate power system. This Milwaukee area customer needed a well-designed and manufactured hydraulic power unit for a particular Wisconsin manufacturing project.
Hydraulic Solutions went to work, designing the system and then completing manufacturing within deadline and on budget. Every hydraulic power unit must be accurately and precisely designed and manufactured for each application.
Hydraulic Design Engineering
Every element of hydraulic design engineering is important – hydraulic cylinders, hydraulic fluids and, especially, the power unit. With broad experience across multiple areas of hydraulic applications, the design engineers at Hydraulic Solutions are extremely dependable.
We provide the exact, practical and affordable solutions you need for long-lasting, maximum productivity. We're a well-established company and will be here in the future when you need us.
Contact our hydraulic power unit experts for more information on custom-designed and manufactured hydraulic power units.
Back to Case Studies