Hydraulic Solutions of Wisconsin, Inc. Proudly Distributes Pneumatic & Hydraulic Cylinders from Lehigh Fluid Power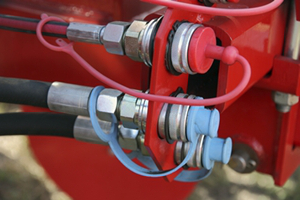 When we expanded our distribution line at Hydraulic Solutions of Wisconsin, Inc. with top-quality hydraulic products and supplies, our hydraulics industry workers were exceptionally gratified to offer the excellent products of Lehigh Fluid Power.
We proudly distribute Lehigh's growing line of finest-quality cylinders (hydraulic and pneumatic), valve actuator cylinders and spring cylinders. Their product line also includes pneumatic linear air motors, position sensing and switches and boosters as well as intensifiers.
Lehigh Fluid Power is a world-class manufacturer of pneumatic and hydraulic cylinders for the fluid power industry. Since 1946, Lehigh has produced precision-made, custom-made and standard NFPA cylinders for many different industrial applications. Its many customers operate in power generation, chemical process, waste to energy and chemical processing as well as medical and pharmaceutical.
Over 50 years ago, the company developed the Lehigh self-lubricated air cylinder, unique because it contained an internal reservoir. The Lehigh slide valve was developed at about the same time. Word spread quickly. Soon Lehigh was receiving orders for hydraulic machinery parts with sales spreading mostly by word of mouth.
Never underestimate the power of high quality.
Lehigh Meets Wisconsin Hydraulic Repair Specialists
Later the company developed the first dynamic lip cushion seal principal. Since the patent has long since expired, most cylinder companies now use this excellent concept instead of the older method requiring ballchecks and springs.
The company became independent in 1964 and continued to develop. In 1970, it moved to Lambertville in New Jersey.
Since 1990, Lehigh has focused on special engineered applications. The company added engineering personnel who became proficient with CAD systems (computer assisted design). Their present applications include stainless steel, nickel-plated or bronze cylinders, boosters and air/oil tanks.
Lehigh's product line now includes linear air motors, NFPA (self-lubricated) air cylinders ranging from ¾" to 24" bore along with medium-pressure and high-pressure NFPA hydraulic cylinders.
Pair the brilliant products of Lehigh Fluid Power with the intensely skillful knowledge of Hydraulic Solutions of Wisconsin, Inc. and the partnership is one which cannot be beat.